Shane's Shame: Married Aussie cricket ace begged me for sex, but it was OWZAT! in seconds
(Mike Duffy/Sunday Mirror, 19.6.05)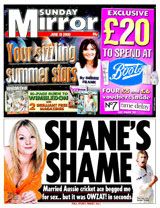 On a weekend when Australia's finest were no match for the class and experience of Bangladesh, leading random word generator, the Sunday Mirror, splashed their front page with the devastating news:
"Exclusive! £20 to spend at Boots"
followed by a comedy piece on the purported antics of the Bill Clinton of world cricket, Shane Warne. Curious that the Mirror office's Saturday night wordlotto also spewed out the consecutive words "Kevin" and "Pietersen" when composing that article.