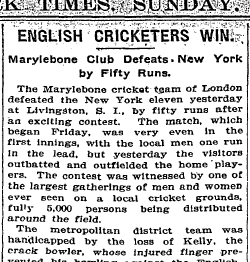 It's a hundred years since Bart King, America's greatest cricketer of all time, graced the playing fields of both his own country and of England as a world-class all-rounder. It was Sunday, August 6, 1905, that five thousand people watched a New York XI lose by fifty runs to the MCC in a two-day game at the Staten Island Cricket Club. American cricket has had its ups and downs since then, but yesterday brought one of its lowest moments.
The USA's expulsion from the 2005 ICC Intercontinental Cup for failing to provide its selected team on time – the legacy of continued internal squabbling – deserves to be ranked as one of the most embarrassing events in the history of American sport. That is, of course, if the vast majority of Americans could care or even be aware of it.
The immediate cause of the US expulsion was the failure to announce by August 1 its squad for the Intercontinental Cup matches against Bermuda and Canada at the end of the month. This, after the USACA had been given an extension of time from July 22. It's curious to see on the USACA website today that there is a squad of thirteen players dated August 4.
The deeper cause is that there are two warring groups struggling for control of US cricket – the official governing body, the USACA and the Council of League Presidents, which is entitled to one place on the USACA board.
CricInfo's USA website documents the recent sorry turn of events. This is one part of CricInfo which is truly outstanding these days. If only the incompetence of some other, higher profile, national cricket boards was pursued with such vigour.
While USA's Intercontinental Cup campaign has been dashed for this year, their Under-19 national team is currently competing in Toronto in the Americas qualifying group for the 2006 ICC U19 World Cup in Sri Lanka. They beat Canada in their opening game on Monday. Bermuda, Argentina and the Cayman Islands are the other teams taking part, only one going through to the World Cup next year.
Not surprisingly, USA's cricketing shame has not received any attention in its mainstream media. There's one Associated Press item that is turning up on most news websites, and that's about it for now. Perhaps if more Americans (say, about a hundred million more) cared about their cricket team, we might see some more accountability and better governance at the top.
Then again, look at the Bush administration… Which reminds me: Condi, are you taking notes?